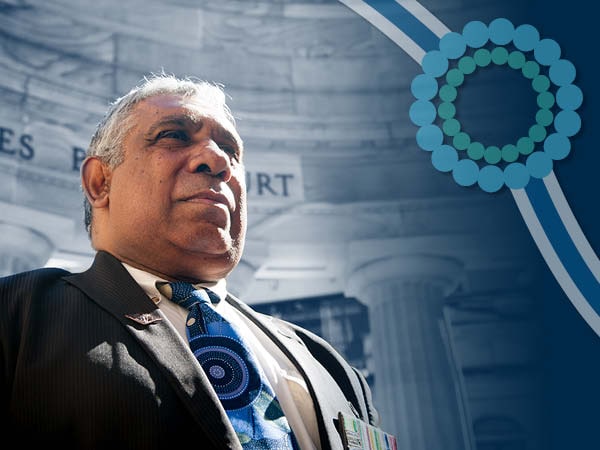 Indigenous Veterans' Ceremony
Aboriginal and Torres Strait Islander people have served in every war and conflict since the Boer War, despite being legally excluded from military service until 1949. Because they used false names and backgrounds, it is impossible to know exactly how many signed up despite the legislation, although it is estimated that about 1,000 Indigenous Australians served in World War I.
Indigenous service people experienced less discrimination in the military than in wider Australian society. There was little room for racism on the battlefield; what mattered was courage, mateship and teamwork.
But although they fought – and sometimes died – shoulder to shoulder with their fellow Australians, they returned home to a country that still refused to acknowledge them as citizens and denied them the recognition and entitlements they had earned.
The Indigenous Veterans' Ceremony aims to recognise the invaluable contribution of our Indigenous service people to Australia's Defence Force, both past and present.
MAIN IMAGE ARTWORK CREDIT: Kullilli-Wakka-Wakka artist, Kim Brolga Williams
Join us at the MEANJIN (Brisbane) event
An Indigenous Veterans' Ceremony is taking place on Saturday 28 May at 11:00am. We invite you to join us in honouring the thousands of Indigenous service people, both past and present, who have served and sacrificed for our nation. If you are attending this event, we encourage you to stay up to date with the latest Queensland Health COVID advice, information and resources.
Where: Shrine of Remembrance Ann St Meanjin (Brisbane)
Date: Saturday 28 May
Time: 11:00am
Please do not attend this event if you are feeling unwell or have flu-like symptoms.
Join us by watching the ceremony online
For those of us unable to physically gather at the Shrine of Remembrance, a virtual commemoration will take place to honour a group of people whose service and sacrifice is often overlooked in the telling of Australia's military history.
Join us on Facebook at 11:00am on Saturday 28 May.
The Details
When:
Saturday 28 May
11:00 AM - 12:00 NOON
Location:
Shrine of Remembrance
285 Ann Street
Meanjin (Brisbane)
QLD
4000
Road Closure: Ann Street (between Creek and Edward Street will be closed between 10:00am - 12:00pm for the Indigenous Veterans' Ceremony at ANZAC Square.