A permanent memorial to indigenous service
01 May 2023
To mark National Reconciliation Week 2022, a memorial almost 10 years in the making was unveiled in ANZAC Square, Brisbane (Meanjin).
The first memorial to be installed at ANZAC Square since the 1990s, the bronzed memorial pays tribute to the Aboriginal and Torres Strait Islander veterans who have served in our Australian Defence Forces (ADF).

Aunty Lorraine Hatton OAM, President of Aboriginal and Torres Strait Islander Dedicated Memorial Queensland Incorporated (ATSIDMQI), and Indigenous Elder of the Australian Army, an adviser to the Australian War Memorial and a veteran who served 20 years in the Royal Australian Signals Corps, says it has been a long journey.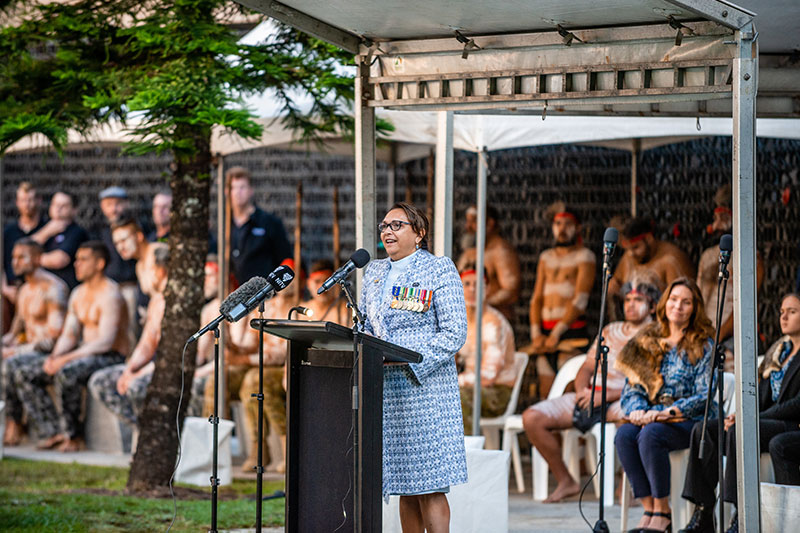 Aunty Lorraine Hatton OAM speaks at the unveiling
"This marks a special day for many in our community," Aunty Lorraine explains.
"When we look at some of the original presidents who have since passed away, we have two elders that started this journey and aren't here to see their dream become a reality. And for me, when we look at our military history, we have so many stories to tell."

PRIDE IN A SHARED MILITARY HISTORY

In early 2014, it was estimated that there were 1,054 Indigenous service personnel (on both permanent and active reserve) in the ADF. Indigenous Australians have served in conflict and peacetime since the Boer War, and the number of Indigenous men and women serving in the ADF has been increasing since the 1990s.

The memorial was designed and sculpted by Liam Hardy of Sculpt Studios and John Smith Gumbula, and is intended to be instantly recognisable.

"The sculpture bridges the culture and traditions of Aboriginal and Torres Strait Islander peoples and their contributions to our shared military history," Aunty Lorraine explains.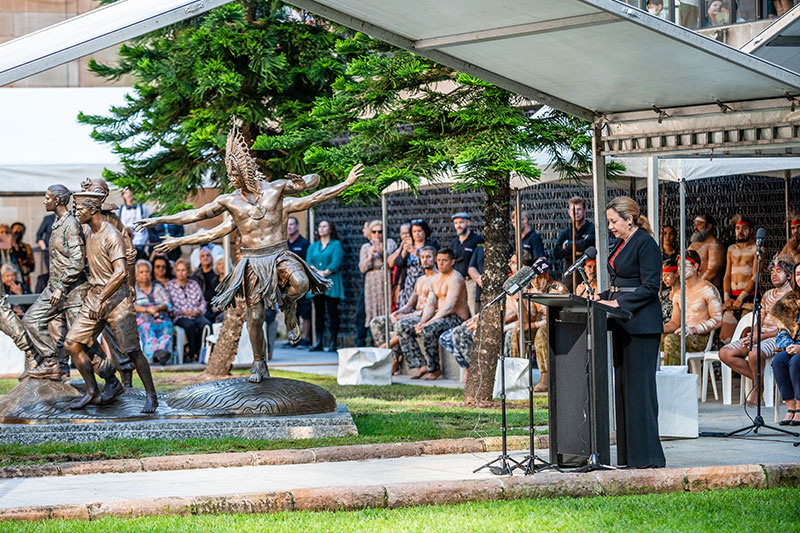 Queensland Premier Annastacia Palaszczuk speaks at the unveiling
"I hope that it stands to educate all people – Indigenous and non-Indigenous – and allows our own people to be proud to know that we've had people who served in defence of our country. To know that this is but one story of many within our military history."

The memorial honours and recognises the contribution of Aboriginal and Torres Strait Islander service men and women to the defence and protection of Australia.

"It proudly recognises – and is representative of – both past and present Indigenous Queenslander ADF members, and we have been wonderfully supported by the three tiers of government, philanthropists and private sector organisations to bring this memorial to completion.

"The memorial is cast in bronze, with life size figures which stand on a 'Journey Stone'. It tells a story of leaving home and embarking on air, land and sea journeys before returning home.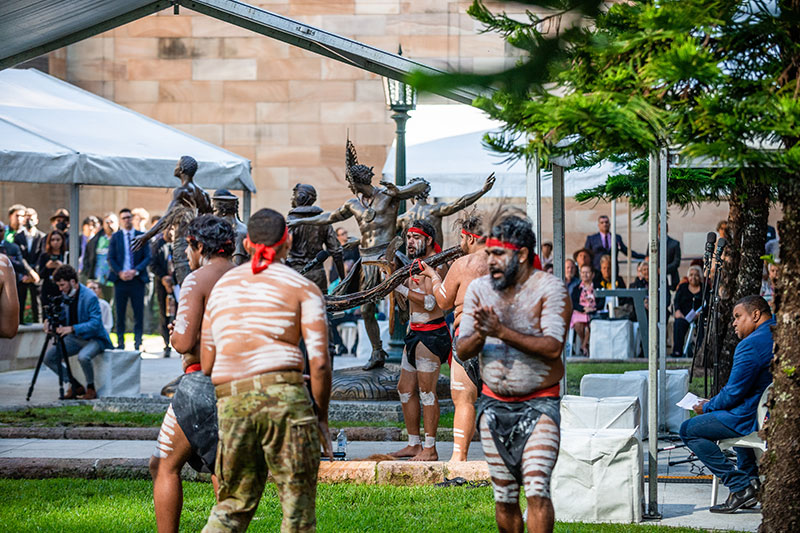 "This isn't about taking away from anyone else's stories; they are all important. I always say that before I can tell my military story, I must tell the stories of those before me. There's that famous saying that we stand on the shoulders of giants who came before us. We must tell the stories of the challenges and journeys they took. This memorial is a part of doing that."

The unveiling was also an important milestone for Noel Pope, a Wulli Wulli and Gooreng Gooreng man, Vietnam veteran and member of the Theodore Chapter of Hervey Bay RSL Sub Branch.

"Being an Indigenous veteran joining the military was life-changing," Noel says.

"For the first time in my life it gave me equal footing in society. Serving my country was in my DNA because of my connection to my traditional boundaries… It has given me an identity that made me who I am today."

The ceremony on 27 May 2022 was attended by RSL Queensland State Deputy President Wendy Taylor; Queensland Premier, the Hon Annastacia Palaszczuk MP; Brisbane Lord Mayor Adrian Schrinner; Chiefs of the Defence Force, Army, Navy and Air Force; and other distinguished guests.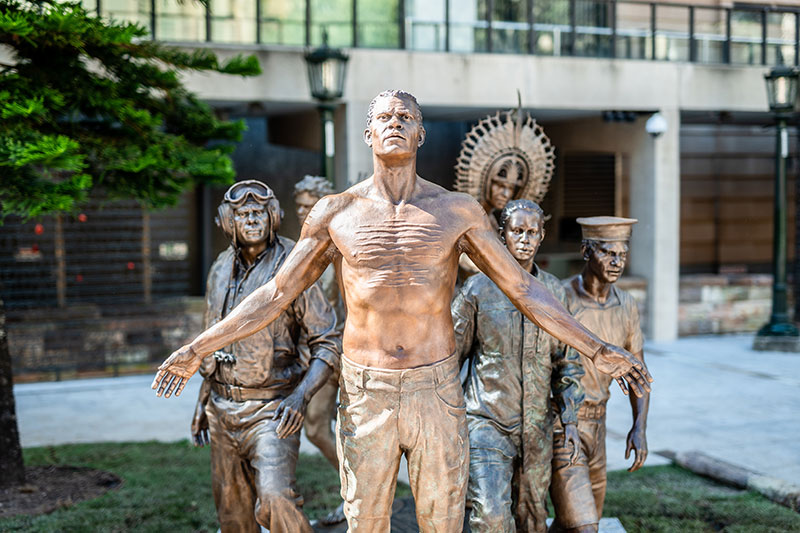 Representatives from the Yuggera Nation welcomed First Nations peoples from all over Queensland, and non-Indigenous people, to the ceremony.

The Welcome to Country was delivered by Gaja Kerry Charleton and was followed by a smoking ceremony, and performances by the Yugambeh Choir, the Army Band, and traditional dancers.
INDIGENOUS VETERANS' CEREMONY | 27 MAY 2023

Since 2006, the annual Indigenous Veterans' Ceremony has recognised all Aboriginal and Torres Strait Islander peoples who have served in our armed forces.
Join us in person or online to commemorate their invaluable contribution.
Tags:
History & commemoration

Ideas & info