Atherton Sub Branch Inc.
Introduction
The Atherton Sub Branch is part of the Far Northern District of RSL Queensland. The Atherton Sub Branch RSL offers a warm welcome to veterans in the local area and beyond. The Atherton Sub Branch is part of the Far North Queensland District of RSL Queensland.
History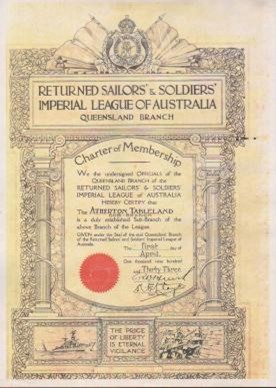 After receiving its Charter on 1st April 1933. For years the Sub Branch held its meetings in various locations in Atherton. The Foundation Stone for the New Club's premises was laid on November 11th 1952, appropriately Armistice Day anniversary and Secretary Bob Dreghorn officially opened the building June 12th 1953. The Club operated at its new premises Main St Atherton until 2008. When it was forced to close, the Sub Branch continued to meet in various Atherton Hotels and members homes. Then after 10 years in the making in December 2018 the construction started on a new premises on Railway Lane Atherton. The new Club was opened on 7th September 2020. The Atherton Sub Branch now has a new home.
Every Sub-Branch has members with distinguished war records and ours was no exception. One that could be singled out from the Atherton Sub-Branch would be Harry Dalziel. Private Harry Dalziel serving with the 15th Battalion A.I.F. won the Victoria Cross at Hamel France July 4th 1918.The date is significant, American Independence Day, and the day that the American Forces first fought in combat, with the Allies Harry was a farmer on Tolga Soldier Settlement.

INFORMATION:
Supporting our members and local Community
Assisting and caring for the sick, elderly and needy

Preserving the memory and records of those who served, suffered and died for the Commonwealth of Australia

Encouraging the members of the League and citizens to serve the Nation with a spirit of self sacrifice and loyalty

Nurturing of the youth of Australia to ensure that the strength, vitality and security of our Nation is preserved and enhanced.
Annual General Meetings: June
General Meetings: Bi Monthly
Committee Meetings: As required
Commemorative days:
ANZAC Day

Vietnam Veterans' Day

Remembrance Day.
SERVICES OFFERED

:
Welfare Officer: Atherton RSL Sub Branch currently has one trained welfare officer, John Hartley.
To arrange an appointment Please contact the Club (07) 40911309
Service related medical conditions

Reassessment of accepted conditions

Lodgement of appeals to the Veterans' Review Board and/or Administrative Appeals Tribunal

War Widow/Widower benefits.
Open Hours/ Information:
Tuesday - Saturday 1000 - 1500 & 1700 - 2000 hrs
Sunday: 1200 - 1600 hrs
Lunch from 11:30 till 14:00
Dinner from 17:30 to 20:00
The Details
Address:
7 Railway Lane
ATHERTON
QLD
4883