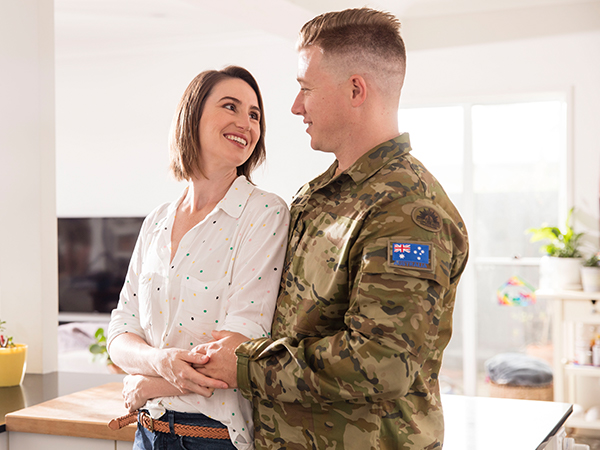 Partner Scholarships
2021 Partner Scholarships are approaching capacity and are currently closed. Please submit an expression of interest if you would like to be notified when applications re-open.
As the partner of a current or former ADF member, you've made an enormous contribution to your family's stability. Now, with an RSL Scholarship, you have an opportunity to pursue your own career aspirations.
An RSL Queensland Partner Scholarship can support you to upskill, re-train or gain degree qualifications that will allow you to re-enter the workforce, pursue a new career, or relocate more easily.
"The RSL Queensland Scholarship program has supported me in pursuing a family friendly career that fits perfectly with the unique demands of service life." – Georgia Gard, partner of currently serving ADF member.
There are 20 scholarships available for studies commencing or being undertaken in 2021, each valued at up to $4,000 a year for up to three years.
Scholarship funding is managed within strict guidelines.
"I thought I'd never get my career back on track, but the financial and moral support enabled me to accelerate my studies and transition into paid work more quickly than I thought possible." – Georgia Gard, partner of currently serving ADF member.


 
To be eligible, you must be:
the spouse or de facto partner of a current or former Defence member 
not receiving other education/training benefits or scholarships
not in regular employment
enrolled or planning to enrol in an undergraduate, tertiary or vocational training course
able to demonstrate hardship or vulnerability relating to your partner's service.
Strict eligibility criteria apply, including ongoing eligibility for successful recipients. These criteria are outlined in the Partner Education & Training Scholarship Guidelines.
Applications open on 18 August 2020 and will remain open until filled, or until the 2022 scholarship round opens.
Scholarships commence in 2021.
Complete the online form below to submit your application.
Purpose:
The application process allows partners of former and current Australian Defence Force (ADF) members to apply for scholarships under the RSL Queensland Partner Scholarship program. This program supports education and training courses to aid in partners' employability.
Submitting your application:
Complete the online form to submit your application. You will receive an email when your form has been successfully submitted.
All applications are reviewed to assess initial eligibility before being put forward for consideration. If your application proceeds to the next stage, you will be asked to provide further documents to support your submission. When all necessary documents have been received, your application will be assessed.
Application assessment:
All applications submitted to RSL Queensland will be assessed for eligibility and to confirm applications meet the intent of the program. 
Application outcome:
You will be notified of the outcome of your application at the conclusion of the assessment.
Your responsibility:
Applicants are responsible for ensuring that they have read the RSL Queensland Partner Scholarship Guidelines and that their application meets the intent and eligibility criteria of the program.
Successful recipients must advise RSL Queensland (partnerships@rslqld.org) of any subsequent changes in circumstances relating to:
a)
change in relationship status
b)
change to residential location
c)
change in employment status
d)
change to approved study (including fee alterations)
Applicants should be aware that providing false or misleading information may lead to applications being declined, or the cancellation of a Scholarship.
Application assistance:
If you need assistance completing the application form, please email us at partnerships@rslqld.org or call 134 RSL.
Download 2021 Guidelines [PDF]