A proud warrior legacy
10 May 2023
Navy veteran Marsat Ketchell, keynote speaker at the 2023 Indigenous Veterans' Ceremony, continues a proud warrior legacy.
Aboriginal and Torres Strait Islanders are advised that the following content may depict or refer to people who have died.
Warrior by birth

Marsat Ketchell was born from warriors.

Almost all Torres Strait Islander men enlisted during WWII, and Marsat – who was "born and bred" on Thursday Island (Waibene) – grew up listening to his grandfathers' and uncles' war stories.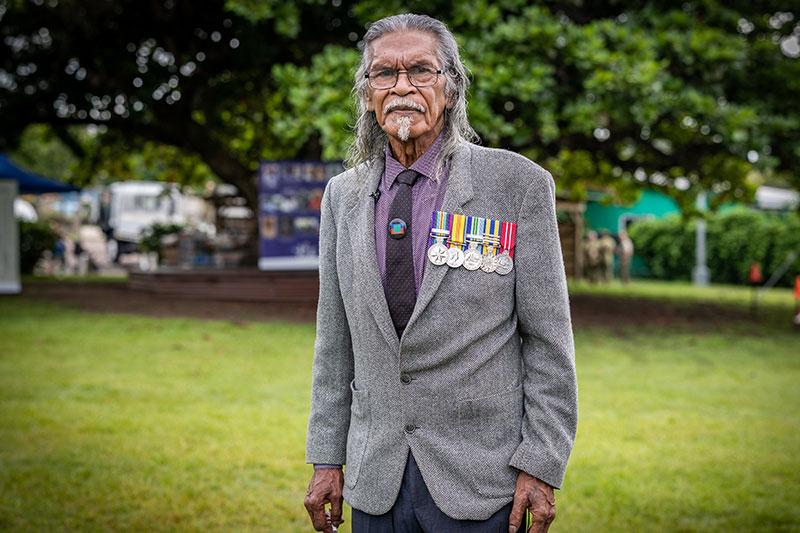 "We spoke about their service in the Torres Strait Light Infantry Battalion (TSLIB), and what they went through," he recalls.

"The TSLIB were the first all-Indigenous soldiers to form a battalion in Australia. We try and keep that legacy going. They're warriors by birth. That's just how we are; we're proud when we put the uniform on and get ready for battle. That's how we grew up."

While Marsat's father served in the Army during the Malaya conflict, Marsat had his sights set on the Navy.

"From my front yard, we saw ships on their way to and from Vietnam. I was exposed to warships nearly every day. So that's when I made up my mind."

26 years of service

Marsat joined the Navy at 15, serving from 1970-1996.

As a fresh recruit, he was no stranger to teenage taunts – racist and otherwise. But he countered them with quickfire humour and by proving his worth.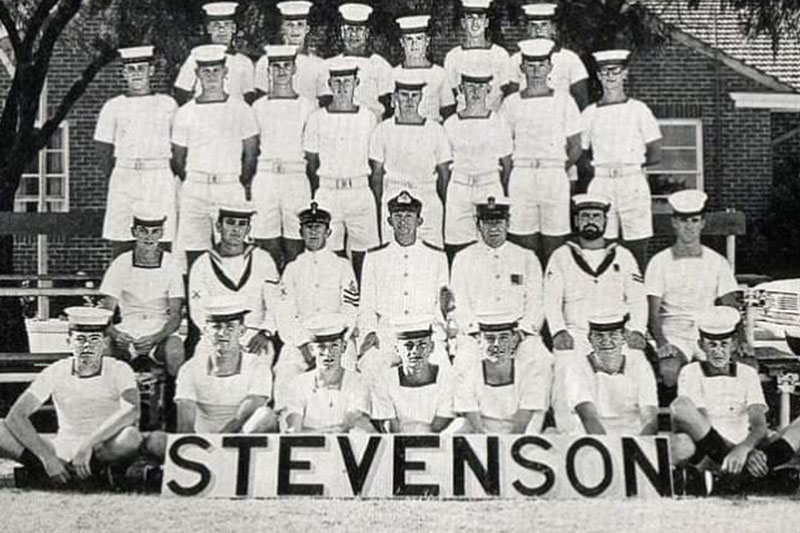 "Us Indigenous boys were quick off the mark," he says. "I always waited until there was a crowd. And then I'd say, 'Remember you called me this?' – mainly to put him down, but also to teach what this meant to us and how we felt about it.

"I guess that's when I started to stand up for Indigenous sailors and veterans, even though I was nearly the smallest in the division in size."

Working primarily with weapons and explosives as a Naval gunner, Marsat served in a range of roles around Australia and overseas – deploying to Vietnam on board HMAS Sydney and HMAS Vampire, clearing WWII ordnance in Papua New Guinea, training counter-piracy staff in the Philippines, working on patrol boats, and training guards for visiting dignitaries on HMAS Cerberus.

For six months he served on HMS Collingwood in the UK, where he trained other Commonwealth forces and was attached directly to the royal family when they visited County Hampshire. "I couldn't believe it – for a boy from the Torres Strait to be over there," he says. "That was a proud moment."

Among his other career highlights were reporting directly to the Minister for Defence – "a big, big thing for a bloke who came out of the scrub" – and travelling the country recruiting and retaining both Indigenous and non-Indigenous personnel. "I once read a quote from the colonial days by a NSW Governor: We must Discipline these Savages," Marsat says. "I took the opportunity in this appointment to Savage the Discipline through intense cultural awareness and orientation."

Today (in addition to his work with Queensland Health), Marsat mentors local schoolchildren who want to join the Defence Force, and he remains close to those he recruited or mentored years ago.

"The young ones in the Navy stay in touch with me all the time, from what merits and appointments they get, to debriefing with me, thanking me or just letting me know what they're up to, which is good.

"I think I'm 'Uncle' to about 100 non-Indigenous kids and probably godfather to about six. They stay in touch with me and I get Father's Day cards from their parents. It makes me feel that I've done something worthwhile."

A sense of pride

Through his recruitment role, Marsat also played a key part in encouraging service members to identify themselves as Aboriginal and/or Torres Strait Islander.

"Through a signal that I sent out to all ships and establishments, I think another 50 or 60 identified and said, 'I'm this tribe from Tasmania, and my grandmother was this, and my grandfather was that'.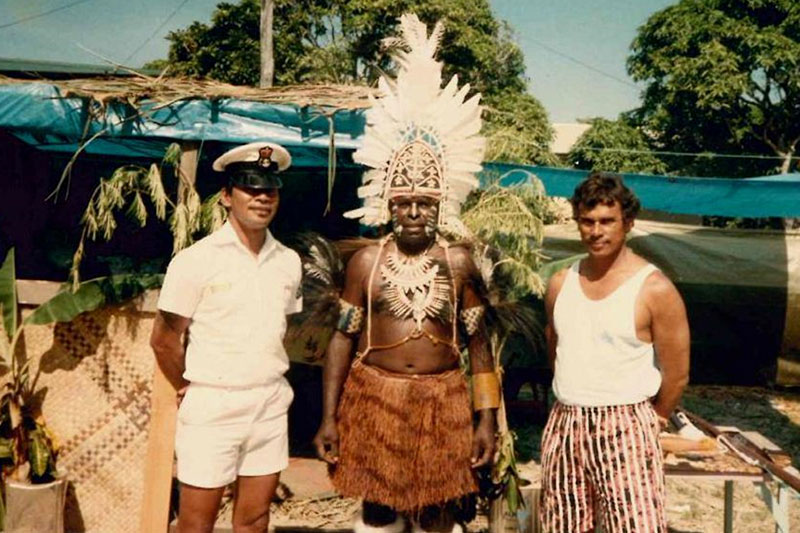 "They were blond-haired, blue-eyed, as they say, so we didn't know [their heritage] unless we put it out. And now they're all together and know of each other. There's maybe 100 of them that identify."

Marsat says it was a different story in the past. "There was this sense of denial or exposing that we were of Aboriginal or Torres Strait Islander descent. But we're all one little happy family now. There's a much better working relationship amongst the non-Indigenous and Indigenous personnel in the Navy and the Defence Force.

"It gives [Indigenous personnel] that sense of pride, which I always promoted throughout my service – pride in being who we are. And we'll win things through merit; we've just got to do what we have to do."

A man of principle

To Marsat, the meaning of service comes down to duty – to both his forebears and his country.

"After listening to the yarns of our elders who served in either Vietnam, Korea or the Second World War, you felt that sense of obligation to honour the thousands of Indigenous people who served and are still serving and sacrificing for our nation.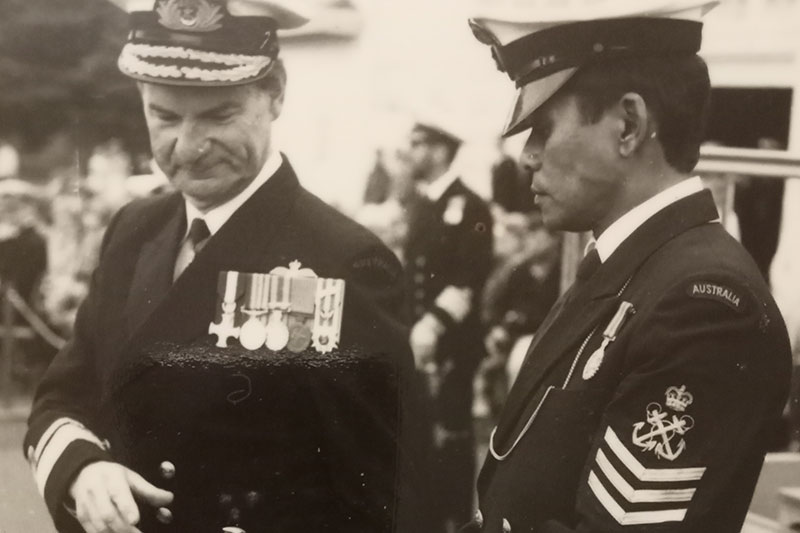 "But more importantly, I felt a sense of responsibility to the Torres Strait and Northern Peninsula area of Cape York. Australia is my land, the Torres Strait is my seaway and land, and I'll play my part in that. It's about my Zenadth Kes (Torres Strait) sovereignty.

"Throughout my career again as a combatant, I observed and applied the principle of L-O-R-E and L-A-W. One was my cultural lore – 'Tag Mauki Mauki-Teterr Mauki Mauki, Adleh Ged Mimi Kak', which translates as, 'Do not touch or take anything from my land, do not walk on my land, or there will be consequences'. It is the lore that Koiki Mabo presented to the High Court in the Mabo Case – the lore of Malo.

"And that sort of fitted into my work and Naval traditional law, our Naval gunnery motto being 'Si Vis Pacem-Para Bellum', which basically means 'If you desire peace, prepare for war'."

These principles guided Marsat throughout his Navy career. "Ethically, that was me. I never strayed away from that. Even as a civilian, I use it in my family life and my work," he says.

"It's been a long road – 26 years. But I enjoyed every minute of it."

Sharing the truth

When invited to deliver the keynote speech at the 2023 Indigenous Veterans' Ceremony, Marsat was "blown away".

"I'm humbled to be representing Indigenous service men and women of Queensland and their families at such a significant occasion," he says.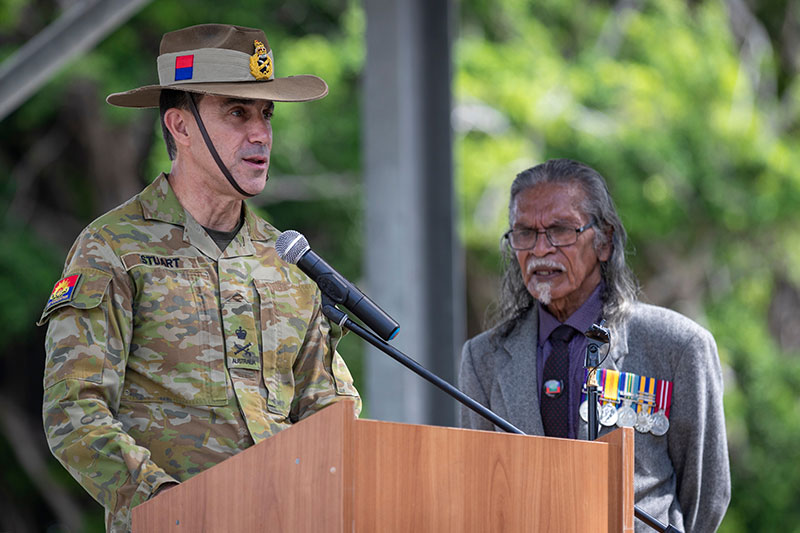 Image: Department of Defence | Chief of Army LTGEN Simon Stuart AO DSC and Marsat Ketchell at the 80th anniversary ceremony of the Torres Strait Island Light Infantry Battalion.
"It's an opportunity to share my story and to share the truth – that in the past, even though Indigenous and some non-Indigenous personnel and veterans were not equally treated, both during and after their service, we're still here. We did serve and we'll continue to serve."

If there's one thing Marsat hopes people take away from the ceremony, it's the importance of culture – "our culture and tradition integrated into the Commonwealth Defence Force culture and tradition".

"We have to marry for good outcomes," he says. "For us to be fully operational, in Defence Force terms, we've got to understand each other and watch each other's back."

And he wants to remind every young Indigenous Australian that "they are just good as anybody else in Australia" and capable of achieving whatever they set their minds to.

"I tell them, don't sell yourself short. You are the storytellers… Tell your story; anything else after that will follow in good stead."

Indigenous Veterans' Ceremony | 27 May 2023

Since 2006, the annual Indigenous Veterans' Ceremony has recognised all Aboriginal and Torres Strait Islander peoples who have served in our armed forces.
Join us in person or online to commemorate their invaluable contribution.
FIND OUT MORE
Tags:
First Nations

Veteran stories