14yo George to light up the dawn in Alderley on ANZAC Day
22 April 2020
Young Brisbane trumpeter to honour our veterans.
At 6am on ANZAC Day this year, the haunting cavalry call of The Last Post will ring out across the quiet neighbourhood of Plymouth Street, Alderley.
Behind the trumpet will be George Forrest, an Anglican Church Grammar School Year 9 student who is determined to commemorate ANZAC Day despite the challenges posed by the coronavirus pandemic.
The talented young musician will play The Last Post, observe a minute's silence, and then play the Reveille while flanked by his mother Lucy, father Steven and sister Amy.
The Forrest family are among many Australians participating in 'Light up the Dawn', which encourages Australians to stand on their driveways, on their balcony on in their living room to remember all those who have served and sacrificed.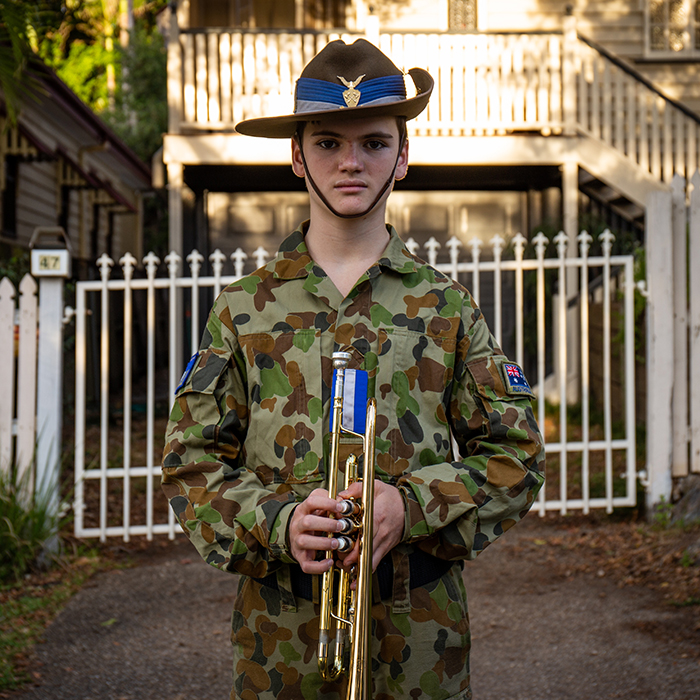 A new way to commemorate
In March, RSL Queensland was forced to cancel all traditional ANZAC Day services in response to the pandemic. The cancellation prompted the community to consider alternative ways to commemorate ANZAC Day. A suggestion for Australians to stand on their driveways quickly gained momentum, and RSL Queensland brought the idea to life with 'Light up the Dawn.'
George first heard about the idea through the Music for Mateship initiative and was inspired to take part.
He even organised a letterbox drop to encourage his neighbours to get involved and join him at the end of their own driveways at 6am.
"The whole idea of it is to come together and remember. We may be isolated, but we can still be united on ANZAC Day," he said.
A family connection
And remember they will, because the spirit of the ANZACs runs deep in the Forrest lineage. George's great grandfather Corporal Charles James Elliott fought for the First Australian Imperial Force (AIF) in WWI and was wounded by a shell at Bullecourt, France in April 1917. Tragically, George's great-great-great uncle William Clarence Forrest, a private also in the AIF, was killed in action at Gallipoli on 28 November 1915. He was 29.
During the Great War, George's great-grandfathers also served in the British Army and Italian Army respectively, and in WWII, George's grandfather Charles Edward Elliott fought for the Australian Army in Papua New Guinea.
George, who joined Churchie's Army Cadet Unit this year, said he often considers following in the footsteps of his relatives and serving in the armed forces.
"I still have no idea what I want to do yet, but it's always been in the back of my head. I think it would be great being in the army and fighting for our country like they did," he said.
To help 'Light up the Dawn' on ANZAC Day, pledge your participation.