Honouring our veterans through the ANZAC spirit
01 April 2023
ANZACspirit

Courage

Endurance

Humour

Ingenuity

Mateship
This ANZAC Day, Australians and New Zealanders will commemorate the 108th anniversary of the arrival of our nations' troops in Gallipoli. That fateful day in 1915 forged a solemn, yet significant chapter of our collective history – a chapter about service and sacrifice. On 25 April, communities come together to show gratitude for this.
The values exemplified by the ANZACs – and by the many brave service men and women who followed in their footsteps – have since been characterised as the 'ANZAC spirit'. So, what exactly are these values, and how can we pay them forward?

Courage

As the Australian and New Zealander troops arrived on the shores of Gallipoli in the early hours of 25 April 1915, they were unaware just how courageous their actions would become.

Their sense of duty led them to enter a battle they did not anticipate, forever connecting them to a powerful legacy that we continue to commemorate today.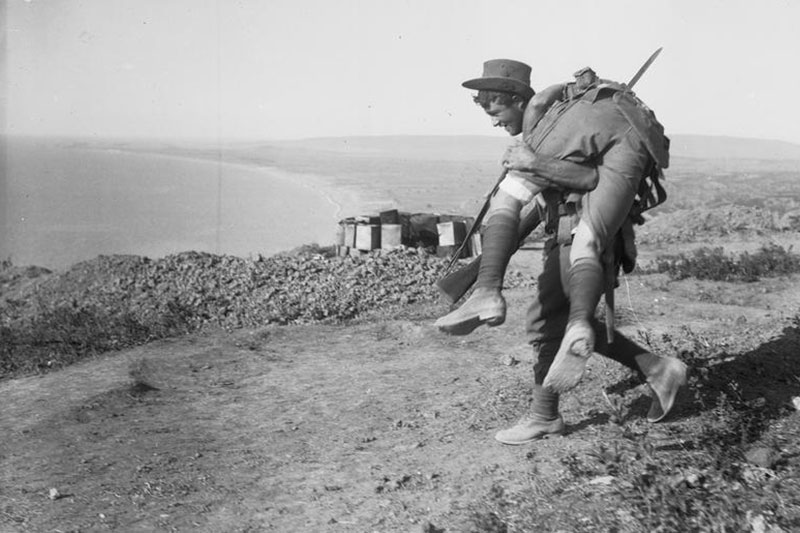 Image: Imperial War Museum | Australian solider carrying a wounded comrade to a medical aid post - Gallipoli 1915
Through their selflessness, and for some the ultimate sacrifice, the ANZACs demonstrated the ability to fight fear in the face of danger – to stand for something and to defend the freedom we hold dear. Their courage has continued through our later generations' service men and women, and is still embodied in the operations carried out by Australian Defence Force (ADF) members today.

Extraordinary stories of courage are not just limited to the accounts of those who have fought for our country. Everyday citizens – men, women and children – also show courage in their daily lives. They stand up to injustice, persevere through hardship, care for the vulnerable, face the unknown, and help others to live with dignity and respect.

Ingenuity

Eight months into WWI, the ANZACs arrived at Gallipoli on a mission to capture Constantinople (now Istanbul), aiming to take Turkey (now Turkiye) out of the war. The small cove they landed in would come to be known as ANZAC Cove.

There, they were ambushed by a large and well-armed Turkish force. The ANZACs' gallant efforts and sacrifice left a humbling legacy, reflected upon to this day as one of the key moments that shaped the national identities of Australia and New Zealand.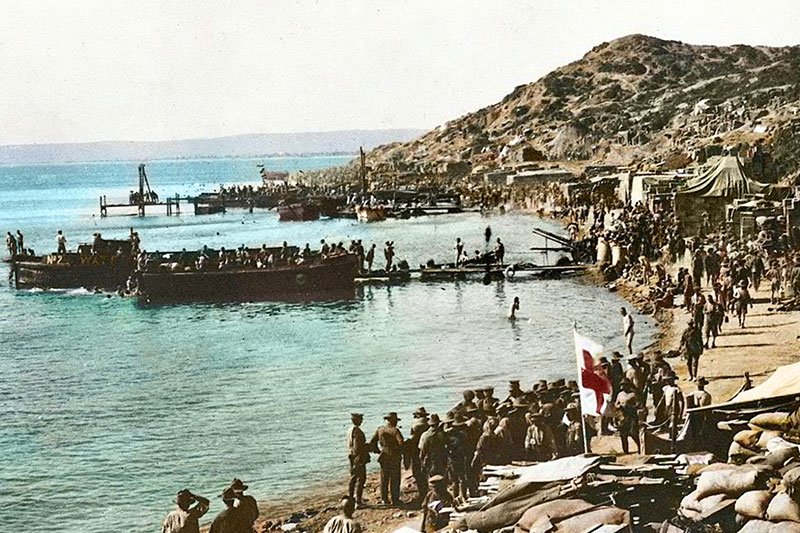 Image: Australian War Memorial | Landings at Gallipoli of ANZAC soldiers
The Gallipoli campaign showed the world how strong we were and our resilience in the face of a crisis. However, it also demonstrated our ability to embrace ingenuity and use our resources to adapt and overcome adversity, unexpected challenges and times of instability.

Our ingenuity has been put to the test time and again, from both World Wars to the Great Depression, the COVID-19 pandemic and the many trials in between. And through it all, we have found new, innovative ways to recover, prosper, and preserve the ANZAC spirit.

Endurance

Australian and New Zealand soldiers toiled through horrendous conditions at Gallipoli, surviving extreme weather, poor sanitation, disease, overcrowding, resource shortages, exhaustion – and, of course, battlefield combat.

While the first ANZACs endured a situation most cannot fathom, they demonstrated a quality that lives on in us today. To this day, Australians are used to showing up and getting through – natural disasters, economic uncertainty and evolving global challenges are all part of our lives. We don't give up easily. It is through our endurance that we navigate our lives with grit, determination and fortitude.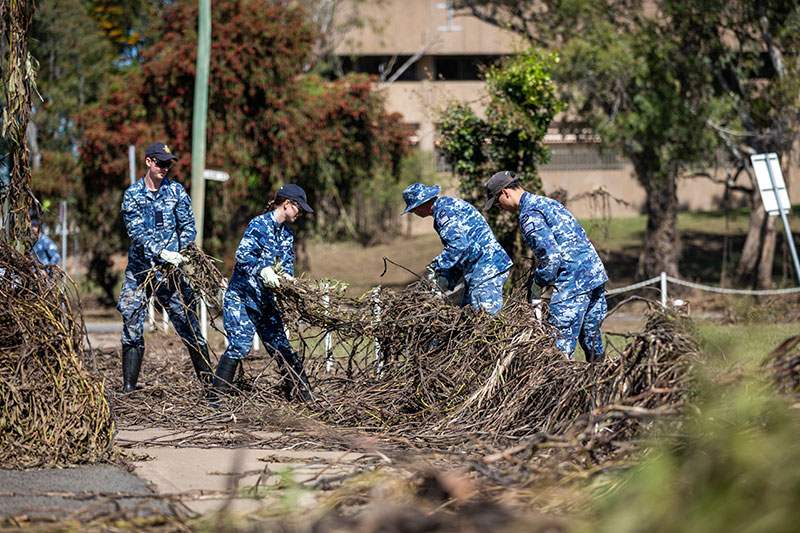 Image: Defence Australia | RAAF members help clean up a park in Moree, NSW after recent flooding.
Humour

"If you don't laugh, you cry" – it's a saying that many of us have heard before, and one that is particularly relevant for the diggers who fought in WWI. While the enormity and seriousness of the ANZACs' situation was no doubt ever-present, it is believed (including by the University of Melbourne) that "relief from the relentlessness of the First World War" was found in comedy and humour.

Some of the relics of that time include 'trench journals' that soldiers created, featuring cartoons, jokes and puns. These journals are just one example of how humour helped our soldiers get through the harsh conditions of war.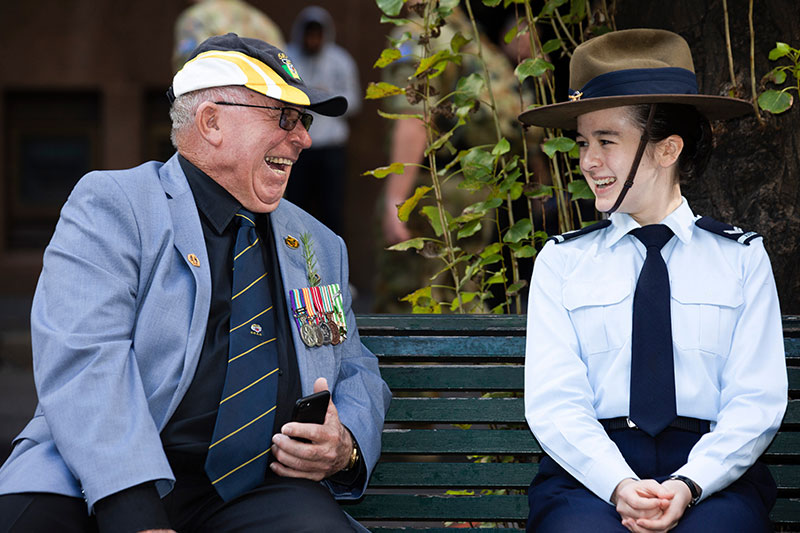 Image: Defence Australia | Veteran Dick Walter shares a story and a laugh with Cadet Corporal (AAFC) Simone Turner
The bonding ability of sharing a good belly laugh cannot be understated. To this day, both ADF members and everyday Aussies are known for having a laugh even through the toughest of challenges. This ability has become something we're admired for.

Mateship

If humour kept spirits lifted in the trenches, then it was mateship that bound the ANZACs together as they endured the hardest challenge of their lives. It has since remained one of the strongest values carried forward by Australian veterans and their families, and one that forms the guiding principles of the RSL's work.

Loyalty, equality and friendship form the foundation of mateship. Our service men and women always look out for each other, and the RSL exists to help pay this forward in return. From partnering with The Salvation Army to help homeless veterans get back on their feet, to harnessing new ways of forging stronger connections with veterans and their families, RSL stands behind our veterans with pride.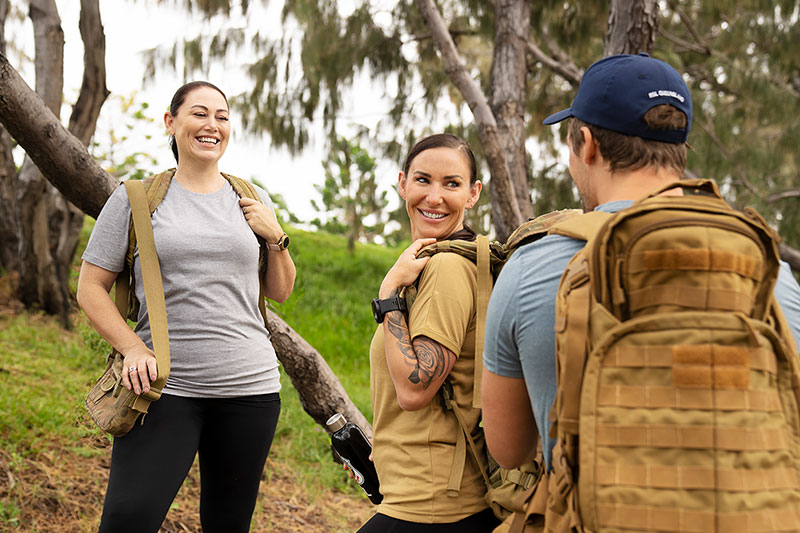 The spirit of mateship is within all Australians. We know that extraordinary things can happen when we come together to support each other. Whether it's helping a mate move house or asking them "are you ok?" when they're having a rough time, it's a value that we live every day.

We will remember them

The values that our diggers modelled at ANZAC Cove have withstood the test of time. Those values are epitomised by Defence members past and present, as well as by everyday Australians who live by them. Courage, ingenuity, endurance, humour and mateship are just as important today as they were in 1915.

Our willingness to roll up our sleeves and lend a hand, to be there for our neighbours and to give back to our communities keeps the ANZAC spirit alive. As our country continues to recover from natural disasters, global challenges and economic hardships, the legacy of those who fought and made the ultimate sacrifice for our freedom is even more poignant.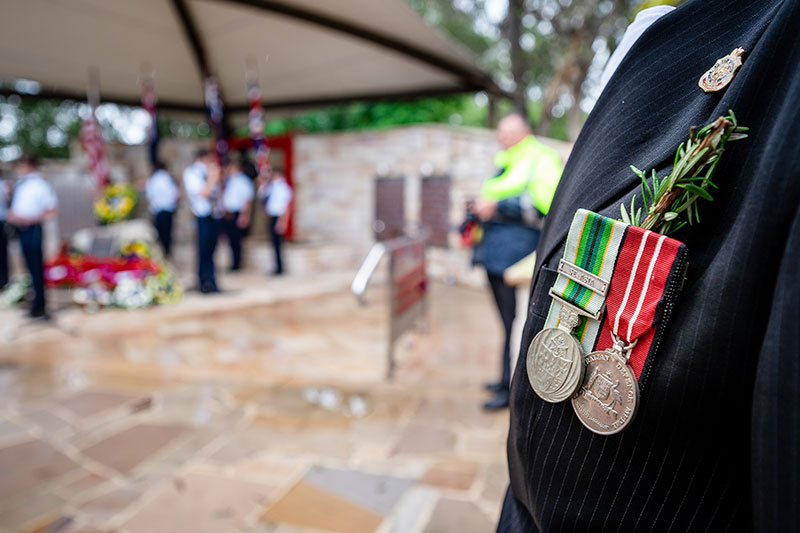 An RSL member attends a public ANZAC Day service
How will you commemorate ANZAC Day?

Since WWI, more than 1.5 million Australians have served in wars, conflicts and peacekeeping operations.

On ANZAC Day (25 April), we invite you to honour their invaluable contribution and commemorate in a way that is meaningful to you.

Attend an RSL Sub Branch service, take a quiet moment to reflect at home or donate to the ANZAC Appeal, and help keep the ANZACs' legacy alive.

Lest we forget.
PLAN YOUR ANZAC DAY
Tags:
ANZACspirit

Courage

Endurance

Humour

Ingenuity

Mateship