Indigenous artist captures spirit of remembrance
11 May 2023
As we approach National Reconciliation Week, we look back to 2020 and a Beaudesert Indigenous artist who found a new spirit of remembrance through art.
Kim Brolga Williams, a proud Kullilli-Wakka-Wakka woman, has been a practising contemporary artist for more than 40 years. And it was her creativity that saw power poles in the front yards of local veterans turned into one-of-a-kind artworks back in 2020.
"I think that Beaudesert was the only place in Australia that had all these poles decorated," she says.
"I thought I'd ask my local energy provider if I could paint the electricity pole outside my driveway and I was given approval."
What started with one pole outside her own home transformed into Kim painting 15 poles in 16 days for local veterans. She says the Beaudesert community was behind her at every step.
"This was for all our veterans who have sacrificed for us. They gave up their freedom and this was to give them somewhere they could remember and share the day with loved ones.
"As a mother of six boys myself and a grandmother, I can imagine looking back on this in 10 years' time with them and know that I gave back to my community," she says.
"And I hope that they will remember that someone thought of the veterans and gave them somewhere to go for ANZAC Day instead of being at home on their own."
A PRACTICE TO HONOUR INDIGENOUS IDENTITY
Living and working in Mununjali country, Kim says her creative practice and this project were important demonstrations of Indigenous identity.
"It was important as I was painting the poles that I am an Aboriginal woman and I'm painting these not only for my Aboriginal and Islander people but for the whole of Australia to recognise that they all went to war to sacrifice their lives for our land," she says.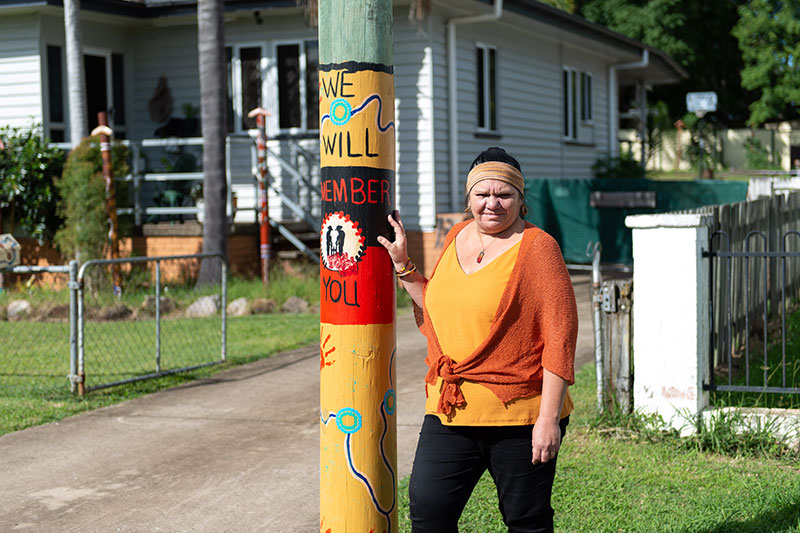 The Importance of Remembrance
For Kim and her family, remembering the service of others holds significant meaning.
"We come from a family that has served in the Army ... it's important to my husband and I that they know the history. And that when we've gone, they will be carrying it on with their children, and then their children.
"Like many Indigenous families, military service is something of a tradition, coming from a long line of warriors. To use a bit of my artwork from the poles, for the Indigenous Veterans' Ceremony, I was quite blessed to be asked.
"I would hope that our Indigenous veterans' are proud of what I've done, and people, our communities, our next generation can look back to see what our uncles and aunties, our grandparents have all done to give us this beautiful country that we can breathe and walk freely. They fought for that for us," Kim shares.
INDIGENOUS VETERANS' CEREMONY | 27 MAY 2023

Since 2006, the annual RSL Queensland Indigenous Veterans' Ceremony has recognised all Aboriginal and Torres Strait Islander peoples who have served in our armed forces.
Join us in person or online to commemorate their invaluable contribution.