Returning Australia's lost soldiers
01 April 2023
How Lieutenant Colonel Tim Dawe and Unrecovered War Casualties – Army find and commemorate the lost Australian men and women who made the ultimate sacrifice.
Lieutenant Colonel Tim Dawe knows better than anyone the healing power of resolution when it comes to losing a loved one.

For the past few years, he has worked for Unrecovered War Casualties, a unit within the Australian Army that – in the ANZAC spirit of endurance – investigates and identifies the remains of historic Australian Army service personnel who were killed in the line of duty on foreign soil.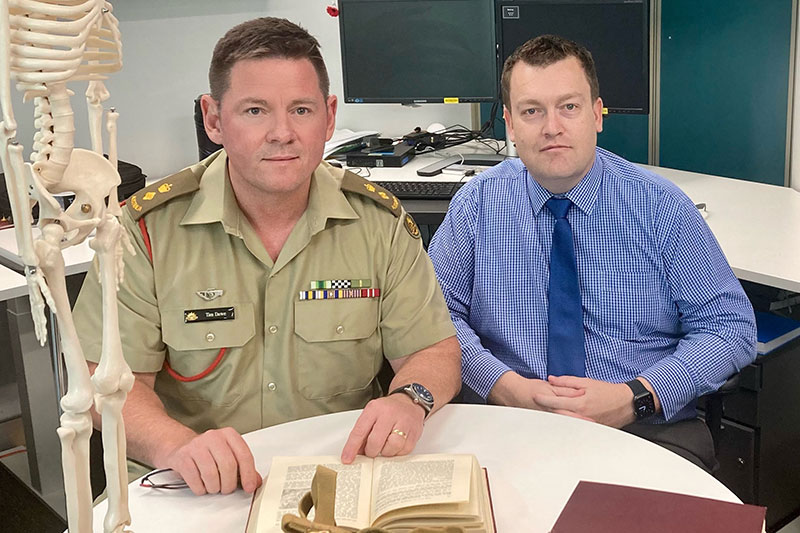 Lieutenant Colonel Tim Dawe and Andrew Bernie from Unrecovered War Casualties - Army
From unmarked graves in Europe filled with fallen soldiers from World War I, to sites in Papua New Guinea, Indonesia, Greece and Turkey – the unit, now in its 13th year, operates across all corners of the globe to give names to Aussies, many more than a century after they were lost.

Closure for families

Now, with technological advances enabling the unit to identify more service men and women than ever before, LTCOL Dawe says they're not only able to maintain the legacy of those who made the ultimate sacrifice, but also provide closure to families and loved ones.

"For us, it's all about families, and we continue to do whatever we can to recover our soldiers' remains and give them a name," LTCOL Dawe says.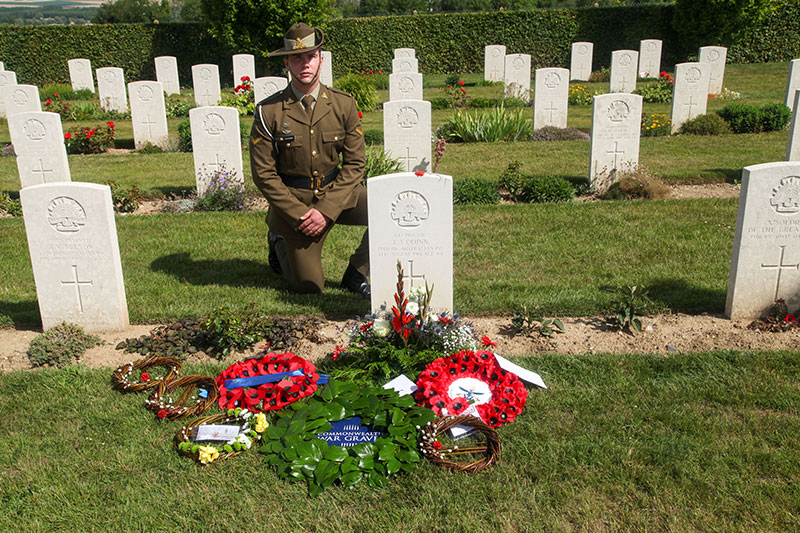 Image: Defence Australia | Lance Bombardier Jack Randell kneels at the headstone of PTE Quinn at Villers-Bretonneux Military Cemetery, France.
"When a loved one – such as a grandmother's first husband – was never recovered, we find that loss often still resonates throughout those families. So being able to bring that resolution is massive.

"And that's the big one for me. I'm often asked to describe why I do the work I do, and that's why. We strive to properly commemorate those who made the ultimate sacrifice."

Identifying remains can take years

While the unit has completed hundreds of investigations over the past decade, with around 40 Australians identified in the past few years alone, LTCOL Dawe says it sometimes takes years to successfully identify found remains, with everything from DNA matching to family and international relations creating a raft of challenges for the team.

There are also geographical hurdles.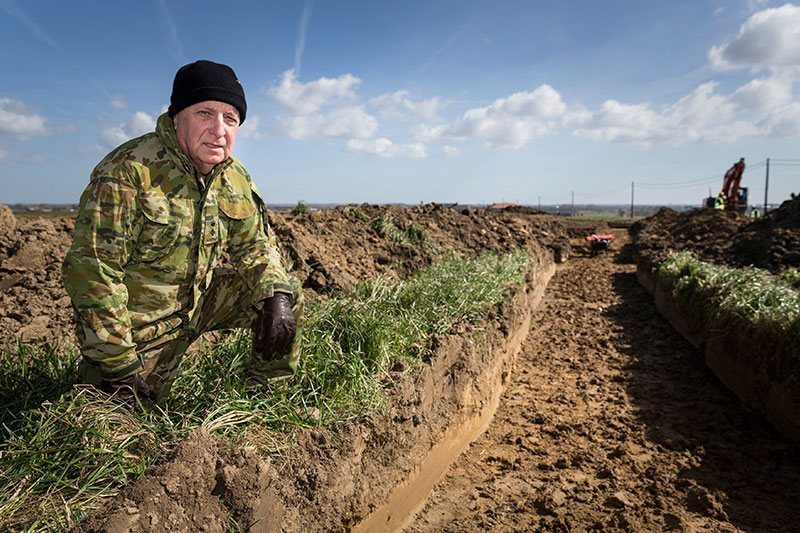 Image: Defence Australia | Lieutenant Colonel Paul Vercoe from Unrecovered War Casualties at an excavation site at Messines, Belgium.
"Many of these casualties happened 60 to 100-plus years ago, and they happened in places such as the Pacific where bone remains degrade a lot more quickly than they may do in Europe, for example, and that's because of soil types and composition," LTCOL Dawe explains.

He says those harder-to-reach destinations provide their own obstacles (think a helicopter flight to the highlands of Papua New Guinea or a bumpy 12-hour bus ride in the backwaters of new Eastern Europe), with local counterparts often engaged on the ground to secure the remains until members of the unit can deploy and conduct forensic testing.

The power of new technology

"Then there's also research and development. We're always attuned to the potential for new data sets of information or new technology and new forensics capabilities. An example of such a partnership is how Defence has funded a DNA project hub with the Queensland University of Technology. The predominant focus of that is to enhance our ability to extract DNA profiles from degraded human remains."

By adding those technological and specialist quivers to their bow, the unit has been able to solve tough cases that would have been filed in the proverbial 'too hard basket' just a few years ago.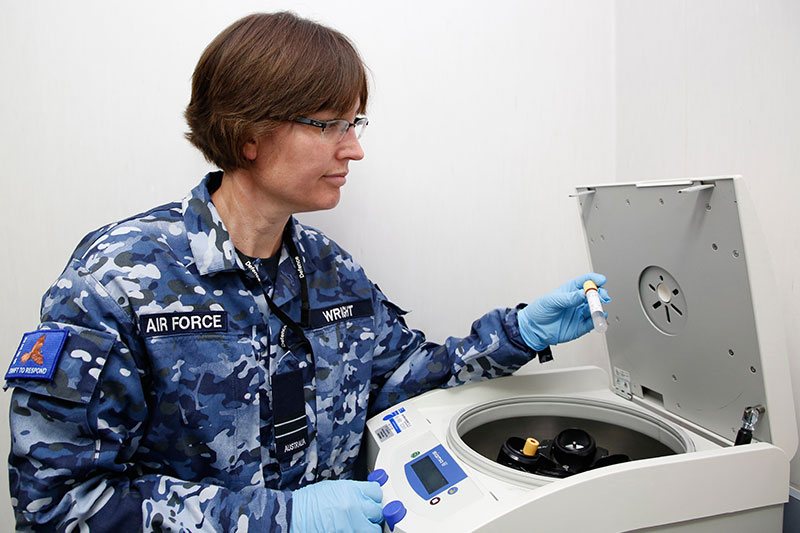 Image: Defence Australia | RAAF Flight Lieutenant Wright conducting DNA testing as part of the Unrecovered War Casualties team
"That's why we never close cases that haven't been resolved. We're always conscious that a fresh review or new technology could provide the key piece of the puzzle. In fact, we recently resolved a case in Belgium where the remains were recovered in 2006 and that was thanks to a new DNA strategy," LTCOL Dawe says.

The story of James and Lottie

LTCOL Dawe says another case involved the poignant tale of Lieutenant James Kennedy – an officer and a member of the 26th Battalion who was living at Miles, in Queensland.

After enlisting in 1915, James boarded a troop ship from Brisbane that was bound for Egypt (via Melbourne). And on that ship James met nurse Lottie Kendall and the pair formed a relationship.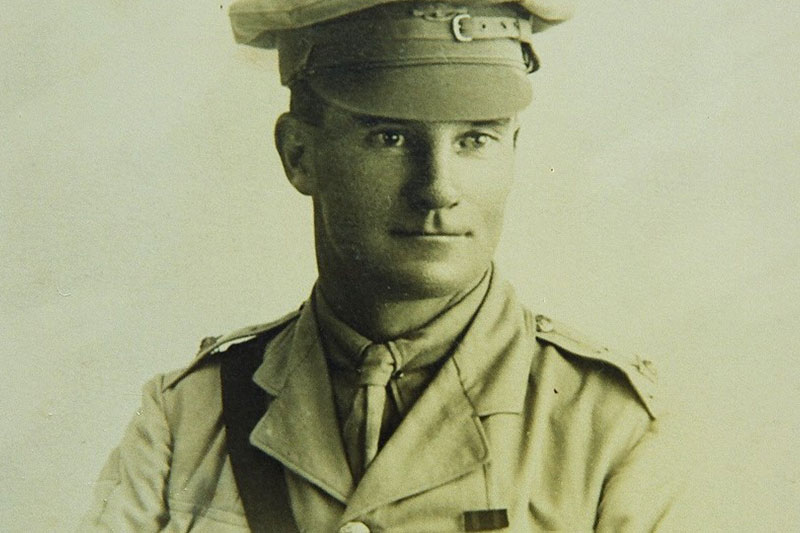 Lieutenant James Kennedy - 26 Battalion AIF
"Once they arrived in Egypt, James deployed to Gallipoli with his battalion. When he returned to Egypt, Lottie was pregnant with James's child, so they decided to get married at Shepherd's Bush Hotel in Cairo, on 29 February 1916," LTCOL Dawe says.

"Their son, Bruce, was born on 23 June 1916 and on 29 July 1916, James was badly wounded at Pozieres. During his recovery in the UK, he and Lottie and baby Bruce were able to spend a period of time together. But while James was offered a staff job, he refused the position, telling Lottie he needed to go back to his men.

"Soon after arriving back in France in November 1916, he was killed in action and his remains weren't found, despite indications he was buried on the battlefield just north of a position known as the Maze, Flers."

Lottie and Bruce retuned to Victoria, and while pieces of the puzzle surfaced over the coming years, it wasn't until 2019 that Unrecovered War Casualties received a submission from a public interest group called Fallen Diggers, who do a lot of work with the unit.

"Their submission proposed that an individual in a grave was in fact James Kennedy, and once we looked at all the sources of evidence, I subsequently had the pleasure of tracking down and informing James Kennedy's two grandsons and granddaughter that he had been identified and found," LTCOL Dawe says.

And to top it all off, on 22 July last year, we were able to have a small ceremony and rededicate the grave of an unknown officer buried at Guards' Cemetery, Les Boeufs, as that of James Kennedy.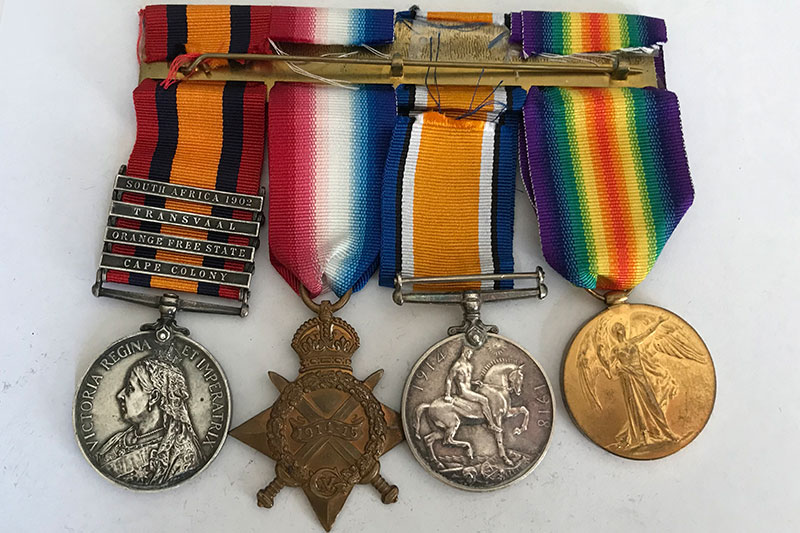 Lieutenant James Kennedy's service medals - Queen's South Africa Medal, 1914-1915 Star, British War Medal, Victory Medal
"Lottie never remarried and unfortunately, she died in a car accident in 1971, never knowing that James had been found. But his family now do, and that is a great example of what we do.

"There is some amazing work that goes into our unit, but the most important linkages are the families. When we can identify someone, the ultimate measure of success is being able to inform families that their loved ones have been found.

"And telling families that you've had a hand in finding their loved ones is a really humbling experience."

As for what's next for the unit, LTCOL Dawe says they have 200 active cases they will continue working tirelessly to resolve, with the public always encouraged to come forward if they have any information to share about fallen soldiers lost abroad. To reach out to Unrecovered War Casualties – Army, email army.uwc@defence.gov.au.

How will you commemorate ANZAC Day?

Since WWI, more than 1.5 million Australians have served in wars, conflicts and peacekeeping operations.

On ANZAC Day (25 April), we invite you to honour their invaluable contribution and commemorate in a way that is meaningful to you.

Attend an RSL Sub Branch service, take a quiet moment to reflect at home or donate to the ANZAC Appeal, and help keep the ANZACs' legacy alive.

Lest we forget.