The Promise
22 August 2023
History & commemoration

Veteran stories
'The Promise' tells the story of a brave nurse in Papua New Guinea who saved an Australian airman during WWII.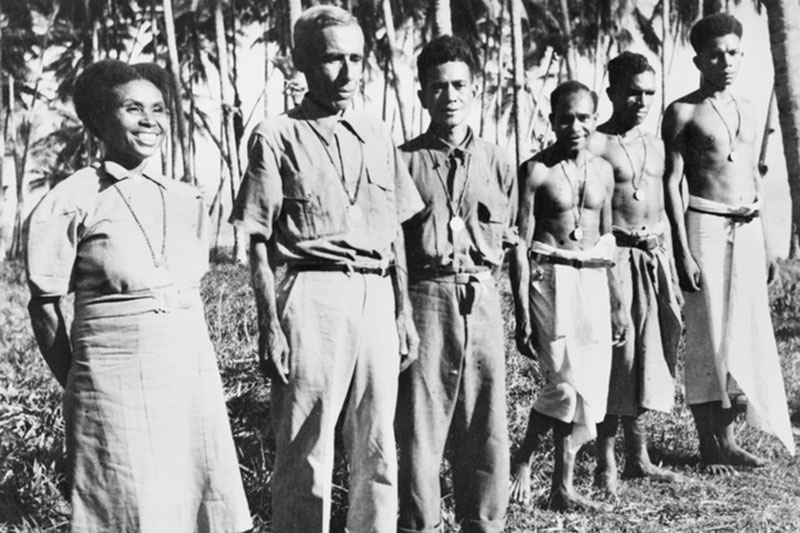 Maiogaru Taulebona receiving her Loyal Service Medal alongside other Papua New Guineans who were honoured for their service during the Battle of Milne Bay (image courtesy of the Australian War Memorial)
By Vicki Bennett
World War II was in its third year, and the Battle of Milne Bay was raging in Papua New Guinea. On the night of 25 August 1942, Japanese soldiers landed between Waga Waga and Wandula, on the northern coast of Milne Bay. The intention was to seize Milne Bay in preparation for landing in Port Moresby, their final destination.
It was during this time of carnage and confusion that a wounded Australian airman, John Donegan, was fished out of Milne Bay in PNG by local fisherman Kidilon Luka. He pulled him into his canoe and took him to a mission nurse, Maiogaru Taulebona, who hid him deep in a shadowy cave so that enemy soldiers could not find him. It was then that she made a promise to protect him and take him to safety.
She treated his wounds, wrapping them in banana leaves, and stayed with him until he was well enough to move. Determined to fulfil her promise to save him, Maiogaru placed him in a canoe, concealed under a pile of vegetables, and paddled him through the night to safety.
Maiogaru Taulebona was just one of the brave locals who took an enormous risk by helping injured soldiers in WWII. The Royal Australian Air Force (RAAF) thanked Maiogaru for saving the life of an airman, and she was awarded the Loyal Service Medal.
This is my second book written about a nurse in Papua New Guinea during WWII. The Flying Angels, published in 2021 was my first. The Flying Angels revealed the story of a group of RAAF nurses who were handpicked to rescue injured soldiers from the frontline of Papua New Guinea.
At the launch of this book, a friend placed a Kina in my hand as a gentle reminder of the local Papua New Guinea people who also assisted and helped Australian soldiers in WWII. It was my friend's passion for PNG's unsung heroes that encouraged me to start my journey to find this amazing story about Maiogaru Taulebona.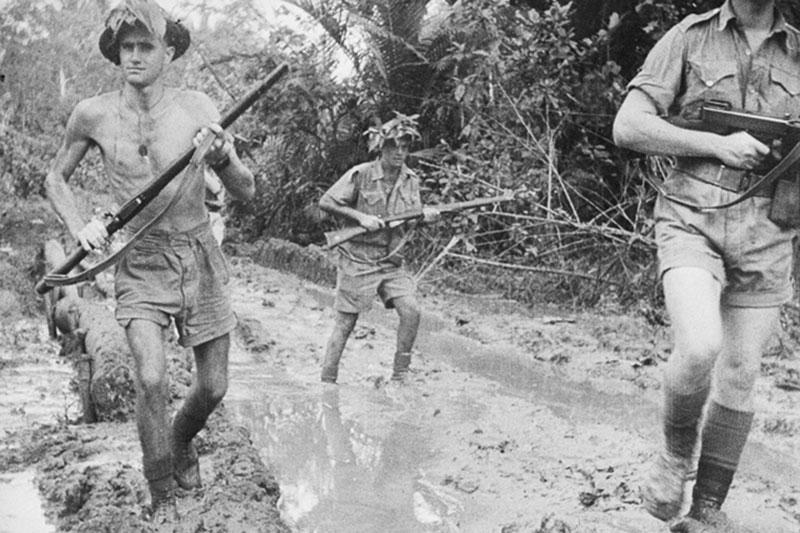 Australian troops managed to drive back the Japanese at Milne Bay (image courtesy of the Australian War Memorial)
The Promise is a story of courage, resilience, kindness, and hope, which celebrates the bond between the people of Australia and Papua New Guinea. It is also a personal story for me as my father, Henry George McGregor was stationed in PNG during WWII in the Signals Corp.
He told me that he would not have survived without the help of the Fuzzy Wuzzy Angels, as they were fondly called at the time. With care and love, these PNG natives became the Australian soldiers' unsung heroes, rescuing injured Australian soldiers and bringing them to safety.
On the 80th anniversary of the battle of Milne Bay, Chief of Air Force, Air Marshal Robert Chipman, AM, CSC, presented copies of The Promise during his official visit to Milne Bay. Nurse Maiogaru's family and local primary schools were very proud to receive these books. The Chief of Air Force recognised the significance of this story for connecting children in both Australia and PNG, and the importance of their shared history.
This book is a valuable resource for children to learn about their ancestors and how this conflict significantly shaped our history. The Promise also speaks of the bravery of women in community.
I believe there is a great need for authentic stories of local PNG heroes to be heard, and these ancestors will reach out to young PNG and Australian children to show them the way forward with clarity, courage, and hope.
The Promise is published by Boolarong Press and is available in bookstores.
Want to stay informed? Subscribe today and get the latest news, services, events and more direct to your email inbox.
Tags:
History & commemoration

Veteran stories